It's that time of the year – the Mine Electrical Safety Conference #MESC2023.
G'day, Chris Mapleson, Manager of Strategic Growth here.
BRING ON MESC2023
At Waterline, we're counting down the days to Mine Electrical Safety Conference (MESC) 2023 – less than a month to go! From Monday 5 June to Wednesday 7 June, you can find us at stand #46 at the Sofitel, Brisbane. We're excited to be attending the conference – our fourth year in a row and second as a gold sponsor. MESC is an incredible opportunity for us and our clients to stay up to date with the latest advancements and compliance regulations in the mining electrical industry, and learn from the experts.
Over the three days we're looking forward to networking and hearing from a variety of perspectives on important topics such as renewable energy and smart grid technology. As a multi-discipline engineering company that supports mine sites across Australia's east coast, we're here to offer our own expertise in relation to increasing your production capacity and improving operational efficiency.
As the engineering partner of choice for the resources industry, we are committed to staying at the forefront of industry trends and delivering solutions of any scale or complexity to our clients. Attending MESC 2023 is just one way we stay ahead of the curve and ensure we are always providing the best possible service combined with innovation and technology.
We look forward to sharing what we learn at the conference with you and continuing to improve processes for our clients giving them the confidence they're compliant.
THE 24-HOUR SUPPORT YOU NEED
Our team is here to support your site to ensure you're compliant and your personnel are safe. Did you know our Operational Support team provides you with 24-hour support, to keep your operation running efficiently and safely? So, when things don't go to plan, as an extension to your team, we're on hand to keep the cogs turning.
And the added benefit for you is that we're site-experienced. So, we know and understand site challenges, enabling us to complete works remotely, which removes the need for site-travel related costs.
VISIT US AND WIN, WIN, WIN!
We're excited to be exhibiting at stand #46, where we'll be waiting eagerly to chat with you about all your mining concerns. We also have other exciting elements of surprise to reel you in. Our Waterliners will be on hand to engage with you too, because we don't want you to miss out on winning great prizes and the chance to connect with you while at MESC.
For those attending, we are giving away some show-worthy prizes and heaps of smaller giveaways.
Our 3D-printed Roof Supports are always a hit, so we want to keep the momentum going. We are giving you the chance to get your hands on 3D-printed Roof Supports at MESC, along with several other giveaways too. It's easy—come by, have a chat with us and enter our comp for your chance to take home some stunning 3D-printed Roof Supports, and much more.
BACK TO MESC
So, as you can see, #MESC2023 is going to be big. Not only will we have the opportunity to connect with clients, delegates and industry, but it's also a great forum to learn more about our sector and the engineering compliance factors that we need to keep on top of. Which is why this year, we're even more excited to have the opportunity to present along with our peers.
Come on over to stand #46 for a chat about how we keep Queensland Mining compliant and learn why Waterline is the engineering partner of choice. Have a chat with Steve and I about how Waterlines' comprehensive engineering approach across multiple disciplines can enhance asset performance or safety by either expanding or upgrading existing systems or pursuing a fully integrated asset replacement strategy. Be on the lookout for our Waterliners with their special shirts who'll guide you to our stand so we can connect, and for your chance to take home our impressive 3D-printed Roof Supports.
My fellow Waterliners and I are looking forward to connecting with clients, delegates and industry. See you at #MESC2023.
Cheers,
Chris!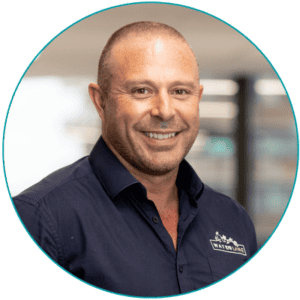 Connect with me today and see how our Waterline team can support you and your operation!
Chris Mapleson
Waterline | Manager, Strategic Growth