Waterline is a vibrant and progressive engineering company that supports mine sites, mineral processing facilities and ports along the east coast of Australia.
Our values underpin our behaviours. We always ensure we live up to our values of integrity, accountability, agility, vitality and empathy in all our interactions with clients, teams and communities we operate in. So, if you are passionate about engineering and driven to help clients keep their assets running safely, now and into the future, then we want to hear from you!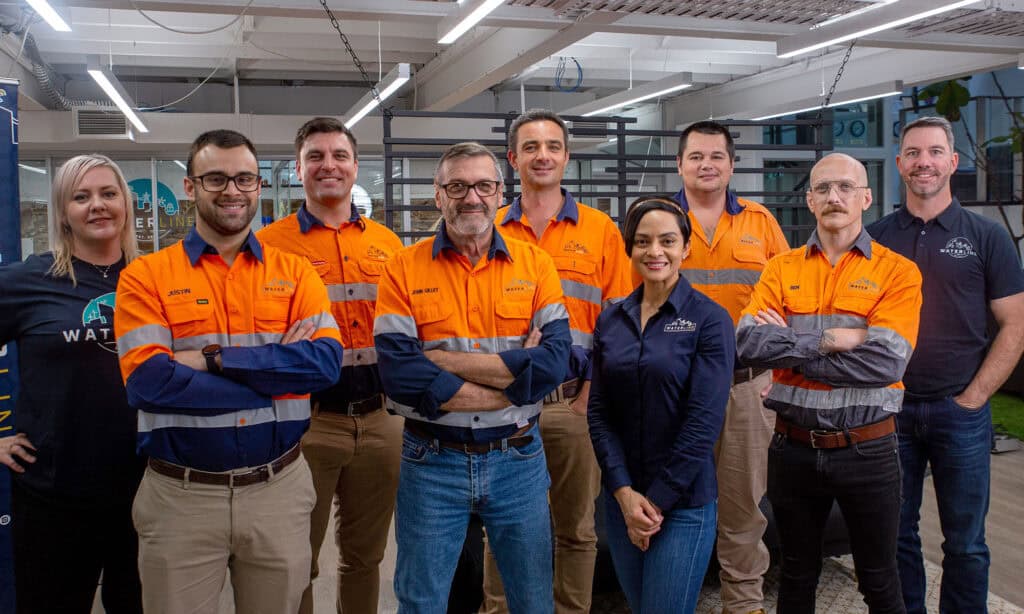 Current career opportunities
We're hiring!
We're looking for a Mechanical and Electrical Engineer or Tradesperson to join our vibrant team. Must be experienced in SHMS documents and technical writing for an underground mine in Central Queensland. The opportunity starts mid-October and wraps up by Christmas. 
Get in touch:
Sounds interesting?  Then submit your CV and cover letter now. One of our Recruitment Business Partners will be in touch with you.
YOUR NEXT ROLE
Waterline is one of the most exciting and vibrant engineering companies in Brisbane. Having progressed through the 'start-up' phase, we are looking to continue our growth and expand our service offering to an established client base along the east coast of Australia.
We are currently looking for a Mechanical Engineer to join our growing team. The role is based in Brisbane and you'll have full autonomy. Our Mechanical Engineering Team has a strong core of experienced operational industry professionals and provides a wide range of mechanical services including mechanical design and project management, materials handling, plant engineering, pipe and pump projects, hydraulics, as well as overseeing the delivery and technical quality of mechanical design documentation.
THE DIFFERENCE YOU WILL MAKE
Working with clients as an extension to their team on a diverse range of projects, you will:
Work closely with clients to provide pragmatic solutions for their operational requirements
Work on a broad range of projects with a focus on delivering clients' projects on time and within budget
Deliver high quality technical outcomes as part of a team, including investigation, analysis and design tasks
Work with our clients to deliver technical solutions
Contribute to winning work and market-led innovative offerings
About you:
Ideally you'll have 5-7 years' experience in concept and detailed design of mechanical works in heavy manufacturing industries that include plant and process engineering
Sound understanding of current mechanical engineering technologies, including methods of installation, operation and configuration
Strong verbal and written communication skills
Demonstrated proactive approach in technical service delivery
Prior experience and the ability to work within dedicated project teams within a multidisciplinary consulting environment
A positive record in managing client relationships and expectations, delivering projects on time and on budget
Experience in Finite Element Analysis
Experience in Computational Fluid Dynamics (CFD) (desired, not essential)
Key attributes:
A 'can-do' approach as a proactive problem-solver with a mix of analytical skills and creativity
An appetite to learn and the willingness to be an active listener
Good communication skills, both listening and interpersonal skills
Empathetic approach to clients' requirements
Ownership of role, tasks and responsibilities
Actively progressing chartered status
Sound like you? 
Then submit your CV and cover letter below and we'll be in touch.
APPLY NOW
Please note applicants must be Australian Citizens / have residency to work in Australia.
Please check back soon for further positions at Waterline. Please note you must be an Australian Citizen or permanent resident to apply for these roles.
Follow us on our social channels for the latest opportunities. You can also introduce yourself to us by sending your CV and cover letter, outlining your experience and why you'd be a good fit to our team, just click the button below.
SOME OF OUR VALUED CLIENTS WE WORK WITH:
proud projects
Read our recent case studies
engineering services
View our multi-discipline services
waterline wire
Read the latest Waterline posts