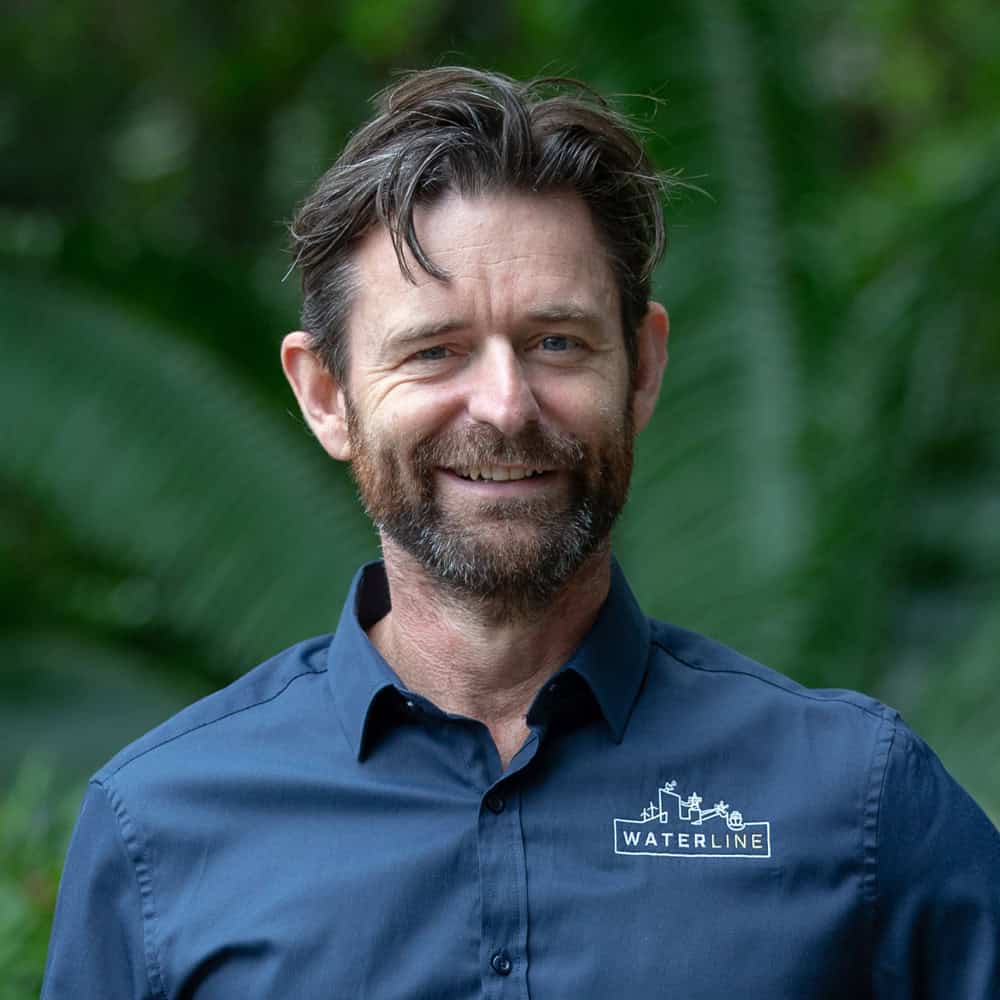 An entrepreneurial and data-driven transformational leader, Randall Makin is an electrical engineer with more than 20 years' engineering and leadership experience.
As Waterline's CEO, Randall is dedicated to building the reputation of engineers and their profession in the mining industry and building client-focused teams across Civil+ Structural, Mechanical, Electrical, Digital Design, Operational Technology and Operational Support disciplines.
Randall is also co-founder of RedEye.
Connect with Randall today and see how we can help.
Tim is a dynamic, results-driven and innovative engineering, maintenance and operational leader with more than 15 years at Vale and Xstrata.
Focused on delivering process improvements across people, processes and equipment, Tim is also experienced across construction and engineering services in the iron ore industry.
At Waterline Tim leads a team of multi-discipline engineers, helping clients in the mining sector keep their sites running now, and into the future.
Connect with Tim today and see how we can help.
A strategic and transformational leader in the resources sector Steve has more than 18 years' experience in engineering and leadership.
An operations and maintenance professional and underground EEM, Steve spent 16 years in underground coal mining operations with Peabody and Anglo American before joining Waterline, to help lead the growth in operational engineering for the Queensland mining industry.
Helping keep clients' assets running, teams supported and safe, is Steve's M-O.
Connect with Steve today and see how we can help.
As Control Systems Team Lead, Justin Hamilton ensures his team collaborates across disciplines to streamline and optimise clients' asset performance – on or off site. Justin holds the philosophy that better engineering will leave the world a better place. It's this philosophy that drives Justin and his team to help clients define, design, implement and commission control system solutions to support their operations. All the while helping clients navigate through the new world of IT/OT integration and offer multi-discipline project delivery.
Connect with Justin today and see how we can help.
Electrical Engineering Team Lead, Seb Gorrell and his team ensure the safety and integrity of your existing plant, while helping you deliver  modification projects and new installations.   A Registered Professional Engineer of Queensland (RPEQ) and a chartered electrical engineer with Engineering New Zealand, Seb has delivered  projects across Australia, New Zealand and Asia. With a focus on electrical engineering and functional machine safety, Seb's industry experience includes coal, oil and gas, water and building services.
Connect with Seb today and see how we can help.
Our Design + Drafting Team Lead, Ben Pomme'e and his team bring your engineering visions to life through technical drawings, 3D printing and design. Ben is a design draftsman extraordinaire. He brings his extensive experience across food manufacturing, robotics, mining, research and development, and design and construction industries. Ben brings a forward-thinking approach to Waterline, where a personal standout project of his is Project Echo, one of the first implementations of a Digital Twin, and BHP's 3D-printed Dragline.
Connect with Ben today and see how we can help.
Waterline's Operational Support Team Lead, Dan Harrison and his team protect your operations 24/7 against operational breakdowns, delays and productivity losses. Dan is an OEM engineer who started out as an apprentice electrician. Now, a  Longwall expert and project manager with almost three decades of underground coal mining experience under his belt, you know your operations are in good hands. While working at Waterline, some of Dan's standout projects include the Kestrel Conveyor maintenance improvement project and the Chain Valley Mini-Wall automation implementation project.
Connect with Dan today and see how we can help.
As Civil + Structural Engineering Team Lead, John Gilley and his team make your projects easier to understand. John brings 40 years' experience in design and construction of structural projects in the resource sector, oil and gas, minerals processing, and industrial building space to Waterline. With his team, John helps our clients communicate their engineering intent through design services and detailed assessments, ensuring assets can withstand design actions. Check out one of the projects John and team delivered – an 84-metre, four-span bridge for Oaky Creek Coal.
Connect with John today and see how we can help.
Our Mechanical Engineering Team Lead, Luke Bateman and his team ensures Waterline provide you with the peace of mind you need by ensuring the safety and integrity of existing equipment. Luke has spent his career working on minerals processing and petrochemical plants as a mechanical engineer. He brings a diverse skillset to his position, including finite element modelling, materials, metallurgy, mechanics, fitness for service, understanding damage mechanisms and design life. Some of the proud projects Luke has been involved in include Dyno Nobel's St Helens.
Connect with Luke today and see how we can help.
See yourself as a part of the team?
Introduce yourself to Waterline, tell us your skills and how you think they would be a valuable asset to the company.
SOME OF OUR VALUED CLIENTS WE WORK WITH:
proud projects
Read our recent case studies
engineering services
View our multi-discipline services
waterline wire
Read the latest Waterline posts