G'day Steve Cheyne, General Manager of Strategic Growth here. As you may have read, there have been a few moving parts lately at Waterline. I am excited about the recent changes that have taken place, as we look to the Waterline of the future.
Having being part of Waterline's early days of such rapid growth where each of us wore so many hats to keep the business running smoothly, it has been a privilege to co-lead the Waterline team with Tim Strong in my previous capacity as joint Operations Manager.  It's certainly a proud moment to look back and reflect on these times, and to see how far our company has come to today.
BUILDING A SUSTAINABLE BUSINESS
Congratulations to Tim who in his new role as CEO will now lead us through the next phase of our growth, creating the far-horizon vision of the future for Waterline, as Randall moves into his founder role and assisting as RedEye's CEO. Together with my other colleagues, Tom Barber and Evelyn Mejias, we'll continue to support and lead our people while ensuring our clients' operations and personnel are supported and safe.
As General Manager of Strategic Growth, I am looking forward to leading a highly capable team who is focused on building long-term relationships with our clients to ensure that Waterline continues to be the engineers of choice for the East Coast mining industry. We'll be on the front-line driving the sustainable growth of Waterline, in line with our strategy and purpose. Aside from working with clients to help scope solutions to problems, estimating and carrying out business development activities, other exciting areas of my team's focus will be on growing our multi-discipline engineering services, geographic expansion, diversification opportunities, and strategic partnerships. I'm really excited to see the positive impact that having a team dedicated to supporting our clients and Waterline's growth will provide to our clients, our people and communities. So, if there's an upcoming project or you need immediate support with, our multi-discipline team are on hand to help.
MACKAY WE'RE ON THE GROUND
One of the key projects we are currently working on is our Mackay geographic expansion. We have a dedicated team of Engineers in Mackay who are right now providing on the ground support for our clients. As we finalise our permanent office arrangements, our Engineers are working out of Mackay's Split Spaces (the old fire station), which enables our team to provide immediate on-the-ground support to our clients while also connecting with local businesses at the Split Spaces hub.
This expansion is also an opportunity for us to give back to our community and as always, we are on the lookout for our next generation of Engineers. Just like Nick Braithwaite, one of our Graduate Electrical Engineers, who is also a Mackay local, completed his studies in Brisbane, worked out of our Brisbane office and has now returned home to work from Waterline's Mackay office.
This is another exciting milestone for Waterline and one that's very close to my heart. I was born and bred in Mackay and having spent the first 30 years of my life there, I have strong ties to this incredible part of the world. Seeing Mackay prosper is rewarding and knowing that we can contribute to the region's growth is exciting.
So, if you or someone in your network is looking for an engineering career with a local and home-grown company with offices in both Mackay and Brisbane, send them our way. We have a Gradu8 Pathways program that you can read about here.
While this is just a small insight on what's to come over the next stage of Waterline's growth, it's certainly an exciting time to be a part of Waterline. And to be leading a team that will help set our strategy and continue to drive the growth of our company as we continue to evolve. If you have a project underway, need on site or remote support, or need to scope an upcoming project, get in touch with me today. I'm just an email, phone call or text away.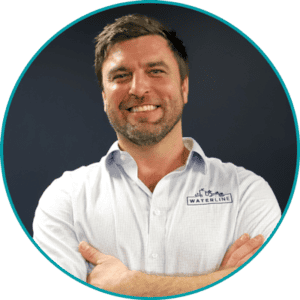 Cheers,
Steve Cheyne
Waterline | General Manager, Strategic Growth