G'day Steve Cheyne, General Manager of Strategic Growth here.
Well, 2022 has been eventful for Waterline with some substantial changes. Now with 2023 nearing upon us, we're striving for a year better than the last. How can we help you tick-off your 2022 hitlist before the end of year? Or what 2023 work can we help you scope and plan for now, to prepare you for the new year?
PLAN AHEAD WITH WATERLINE
As you might've heard we've had some significant restructure changes in the last month with some very capable leaders stepping up to executive positions at Waterline—Tim Strong (Chief Executive Officer), Tom Barber (GM Engineering), & Eve Mejias (GM Business Support). Congrats team!
We've had an amazing growth journey and it's all thanks to the work we've done with our clients over the years, the rapport we've built and the relationships that continue to grow. As the year draws to a close, our focus is now on helping our clients scope and plan ahead for 2023, so you can hit the ground running after the holiday break. 
My journey with Waterline has been close to a dream especially now with our expansion into Mackay—a fantastic region where I grew up and is a great breeding ground for engineers. With so many young skilled graduate engineers setting their career prospects outside of this wonderful region, we want them to reconsider Mackay by providing those opportunities at home, in Mackay with our Gradu8 Pathways Program. Besides, this means we're going to be closer to our Mackay-based clients, ready more than ever before to provide you with on-the-ground support. As Waterline continues to evolve, the intention is to deliver on our purpose of partnering with Australian Industry to provide safe and sustainable resources to the world.
As a matter of course, in driving that purpose we would be generating more sustainable services for our clients too.
KEEP THE COGS TURNING THROUGH TO 2023
Speaking of sustainable resources, we know you'll be under the pump around this time of year. So we're here checking-in on you. How can we help you wrap up your work for the year and prepare for 2023? With our support, you can truly switch off during your break and focus on all things unrelated to work. How can we help you tick-off your 2022 hitlist before the end of year? What 2023 work can we help you scope and plan for now, to prepare you for the new year?
We also have RPEQ qualified engineers in-house, so we can provide all-round support to you, giving you peace of mind that you're complying with relevant standards. As we collaborate, you can trust that we'll be efficient with the range of expertise that we bring forth from our multi-discipline engineering services.
Remember that we now have an active team based in Mackay. So our troops can provide on the ground support to our clients, giving you greater accessibility to our site-experienced team. Read more about how we keep our clients' cogs moving here.
We're only an email, phone call or text away. We'll keep your site compliant, productive and safe now and into the future. That's why our clients turn to Waterline as their operational engineering and compliance partner of choice.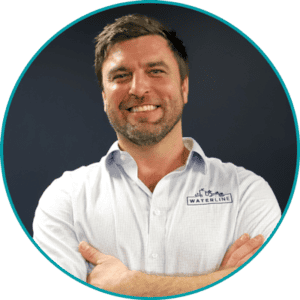 Cheers,
Steve Cheyne
Waterline | General Manager, Strategic Growth