With the end of year upon us, now is a great time to start wrapping up jobs and projects while planning for the year ahead, to ensure a smooth start to 2023.
It has been a challenging couple of years with COVID, so this Christmas will be a memorable one. We're all looking forward to connecting and reconnecting with family and loved ones, while also taking the opportunity to re-energise. It has been an eventful year with Waterline achieving many key milestones and undergoing significant change. And we couldn't have achieved our milestones without our valued clients, suppliers, strategic partners and our people.
With our continued growth, and with Randall taking a leave of absence to lead RedEye in the capacity of interim Chief Executive Officer, I became Chief Executive Officer of Waterline on 25 July this year. I feel honoured to lead such a talented team and it has been fantastic to see and experience the evolution we've undergone since I first joined back in 2018 when we had about six to eight team members. Now here we are today, a strong team of 80 and still growing.
Having access to someone who I could entrust to complete the jobs I needed done without getting into the detail—that's what I needed. So, it's empowering to now be in a position where we can provide this much needed support to our clients so they can focus on other aspects of their operation. It gives me great comfort to know that we've exceeded our clients' expectations and delivered work that our team are proud to have been a part of. Just like with these proud projects that our team has delivered for our clients.
To help Waterline achieve its strategic objectives, I appointed a new team of executives Steve Cheyne GM Strategic Growth, Tom Barber GM Engineering and Eve Mejias GM Business Support, whose focus is to ensure we deliver on our business purpose of partnering with Australian Industry to provide safe and sustainable resources to the world. With their experience, I am confident we will build a resilient and sustainable business that continues to service our clients, now and into the future. So as our Industry changes to ensure it is sustainable for future generations, so will we.
Building on our foundations, as a business we have collectively reviewed our values, which underpin every interaction we have with our clients, strategic partners, suppliers, our people and communities. I couldn't be prouder of our achievement in finalising our values which represent who we are as a business—we are driven, we are authentic, we are empathetic and we are supportive.
It goes without saying that our ability to support our clients relies on our people's drive and tenacity to deliver positive outcomes for our clients. Having been in your boots, we have experienced your challenges first-hand. It's this insight that enables our team to deliver exceptional work for clients and it's the reason why clients seek Waterline for engineering, operational and compliance support. And it's why we have expanded into Mackay, having a dedicated team of engineers who can provide on the ground support for you.
We have delivered many successful projects for our clients, as an extension to their team. Have you read through our proud projects yet? Read them here, to find out for yourself how we could help support your team in general, or how we can help you tick-off your 2022 hitlist before the end of year. We can even help you scope and plan your projects for 2023, so you're ready to hit the ground running come January. And who doesn't want a smooth start in 2023?
It has been a huge year on many levels, so I hope you have the opportunity to spend time with loved ones while also having some downtime.
Thanks to our clients and strategic partners for your continued support. The team and I look forward to supporting you in 2023. And remember that as an extension to your team, we're only just a phone call, text, or email away.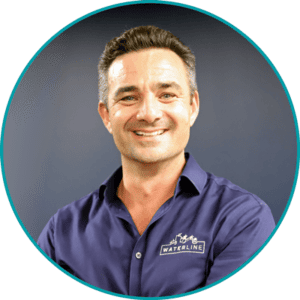 Best wishes for the festive season and stay safe.
Tim Strong
Waterline | Chief Executive Officer