What a momentous year 2022 was for us Waterliners, in its most gratifying sense. Reflecting on the year that was, 2022 provided many growth opportunities for Waterline. 
The last six months have been nothing short of rewarding (and challenging) as I stepped into the role of Chief Executive Officer, along with three proficient leaders as General Managers—Steven Cheyne (Strategic Growth), Tom Barber (Engineering) and Evelyn Mejias (Business Support). We've been working together to take Waterline through to the next phase of growth, enabling us to deliver on our purpose of partnering with Australian Industry to provide safe and sustainable resources to the world. With these developments, we're setting our horizons for a new year at Waterline, where we're able to devote our resources more sustainably to the specific needs of our business, and our clients.
A YEAR OF ACHIEVING MILESTONES
As a part of this growth strategy, we hit a major milestone as we forge into the new year with our values of driven, authentic, empathetic and supportive. I'm proud of our Waterliners who via a series of business-wide workshops and individual contribution for those who were on site at the time, collectively reviewed and validated our Waterline values, which are at the front and centre of everything we do. These four mutually inclusive values communicate who we are as a business and are our guiding principles for how we interact within our business and externally with our clients, strategic partners and communities.
In an effort to be more accessible with our operational services, we're striving to provide on the ground services across states via expansion plans, which have already commenced in Mackay. We have a dedicated team of site-experienced as well as RPEQ engineers ready to support our clients—Luke Miller, Nick Braithwaite, Lyle Brown and Brannon Oliver who now have your back locally. We are based at the Split Spaces offices on Sydney Street if you wanted to swing by for a chat about your site's operations or discuss any potential future opportunities. With these expansion plans progressing rapidly, we've been growing our team of Waterliners too while we currently have 10 RPEQ engineers in-house. Did you know that the second phase of this expansion plan includes extending our services into NSW too? Steven Cheyne is striving to ensure our services are readily available to you beyond QLD. Reach out to Steve and get to know more about how we can support your operation.
Thanks to our clients' continued support, we have been able to ensure their 24/7 operations keep running smoothly, with the engineering and operational support we have provided to their sites. Our proud projects are testament to the way Waterline has been able to produce exceptional solutions for our clients' sites, helping the business achieve operational efficiency. Our multi-discipline team has expanded rapidly over the last couple of months and continues to grow, thanks to our loyal clients. This has meant a wider pool of engineers have been recruited to meet the growing needs of the business, enabling us to serve you better.
"Queensland adopted a target for a zero net emissions economy by 2050 in 2017, aligning with the objectives of the Paris Agreement to keep average global warming below 2 degrees Celsius and as close to 1.5°C as possible. By adopting these common targets, the states and territories are leading the way to ensure Australia meets its international obligations and plays our part in limiting climate change."
While we are rapidly growing in our operations, we are aware of the need to future-proof our business and support the decarbonisation commitments that impact our clients and industry. Waterline has been participating in the Entrepreneur's Programme, which aims to support small and medium business to transform business operations and become more competitive and productive. The next phase of the program will enable us to participate in the Business Decarbonisation Pathways discussions, which focus on working towards achieving the net zero target. Through the resources available via this grant, we will participate in peer-group learning events and meet with local net zero experts and low-carbon technology providers, enabling us to progress our business goals aligned with those of Government, while continuing to support our clients.
Source: National and international engagement | Environment, land and water | Queensland Government (www.qld.gov.au).
SUPPORTING SUSTAINABILITY EFFORTS
With several plans, ideas and solutions brewing in the background, our priority is in keeping with our business purpose of partnering with industry to provide safe and sustainable resources to the world. Bearing that in mind, you know that you can count on Waterline for assistance with assessing the impacts to your sites. We are working closely with some clients to digitise their introduction to site, which not only improves efficiencies, but also helps ensure the accuracy of information and accessibility.
Does that sound like something you stand to benefit from? If so, let's connect and discuss what this could mean for your operations. We'll help you scope out your upcoming projects or see how we can support you and your team. Get in touch with me, Steven Cheyne, or Tom Barber via email or you're most welcome to our most enticing offices for a coffee at Level 2, 133 Mary Street.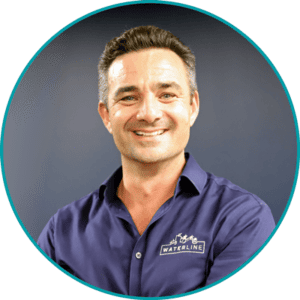 Wishing everyone a successful year ahead!
Tim Strong
Waterline | Chief Executive Officer