Let's celebrate #IWD2021!
At Waterline we embrace diversity. Whether that's diversity of thought or gender diversity, we believe that through diversity, we are making engineering better.  
As Operations Manager this is always top of mind as our business grows. We have a talented team of women who are hard at work either on site, off site or behind the scenes, keeping our clients' assets running and their people supported and safe. Waterline want to pause and celebrate these women, and all women, this International Women's Day (#IDW2021).
Some of the Waterline team striking the International Women's Day 2021 #ChooseToChallenge pose
Give it a go yourself in your workplace. Raise your hand high to show your commitment to choose to challenge inequality, call out bias, question stereotypes, and help forge a more inclusive world. Use the hashtag, #ChooseToChallenge, strike the pose, post a photo in solidarity and join us in committing to choose to challenge and call out inequality.
Waterline keeps the cogs turning
This #IWD2021 on 8 March 2021 we celebrate these amazing women, and the contributions they make to Waterline and our clients. Across our Mechanical Engineering, Operational Technology and Operational Support teams, Kylie Davey, Colleen Vaccaro, Kristin Watkins, Britt Riley, Melanie Mason and Hope Hughes are the women who keep our clients' projects moving—thanks for everything that you do for Waterline and our clients. It's through their dedication and commitment that we deliver tangible outcomes for our clients, like in these proud projects.
We deliver results
We work hard for our clients to deliver efficiencies, savings and safety improvements. Check out some of the great work our team has delivered.
While it's important to pause and reflect every year on #IWD, to celebrate the achievements of women across the globe and look for ways to bridge the gender gap, I'm sure you'll agree (as my wife Amanda will) that celebrating women's achievements shouldn't be limited to just one day—it should be every day.  
So as a starting point, let's pause today, like our team leads below, strike the #ChooseToChallenge pose, celebrate the achievements of all women and the meaningful contributions they make. And here's a challenge for all of us, to look for the little things we can all do every day to help forge a gender equal world.  
Our team of talented multi-discipline engineers are here to keep you supported and your projects moving in 2021. Why not see for yourself the difference we can make to your operations? 
Connect with me today.  
Happy #IWD2021 from me and the Waterline Team! 
Cheers,
Steve Cheyne
OPERATIONS MANAGER | WATERLINE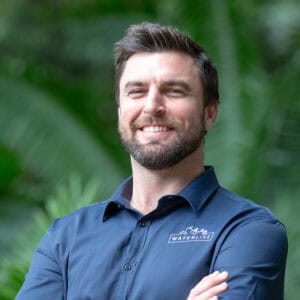 Waterline has an exciting opportunity for an experienced Senior Electrical Design Drafter with demonstrated mining, heavy industry and industrial experience to join our team at our Brisbane Headquarters.
Read More »
G'day Steve Cheyne, General Manager of Strategic Growth here. As you may have read, there are various moving parts at Waterline. I am excited about the recent changes that have taken place.
Read More »
Well, it has been about four weeks since I stepped into the Chief Executive Officer role. And while it has been a month into my new role, with all the moving parts, it feels more like months have passed.
Read More »